The Streaming Recorder
A full-featured audio recorder that streams to the Red5 server.
This recorder captures user audio, and streams it to a server as it records. Playback happens in the streaming player, or any player that supports the RTMP protocol.
This recorder is fully functional.
After you save, a link will appear to the player.
Features:
Record, play back audio in the browser window.
Play audio in a separate player.
All recorder functions are exposed to Javascript.
Make your own HTML interface.
Requirements:
Red5 server (A detailed document describing the process of setting up a Red5 server on Amazon's hosting service is available for download here (PDF document).
Flash player version 11.2 or higher.
Microphone and speakers.
License key ($99 from the online store).
Note that the recorder requires a license key in order to operate fully. (An unlicensed recorder will play a short "nag message" when playing back. Other than that, the recorder is fully functional.) You can buy a license key online for $99.
Licensing Information
A single-domain license costs $99. A license key will work with subdomains as well as the top-level domain name. To purchase a license, go to the online store.
Refer to the documentation included in the download for deployment instructions.
To make modifications to the program, purchase a non-exclusive, non-transferable, perpetual license to the source code for US$199. The source code includes the Java code for the Red5 application, and the Flex code for the recorder and player.
---
For More Information, Contact:
Den Hoopingarner
dhoopingarner@gmail.com
---
6,561 visits since 9-22-2013
Other recording products
The Barebones Recorder
Client-side audio capture and conversion to MP3. This recorder captures user audio, converts to MP3 format on the client side, then uploads to the server. A single-domain license costs $74.99.
---
Karaoke Me!
Online Karaoke for your website! Pre-load songs into a dropdown menu, or load MP3 files from your own computer.
Available now for only $49.99.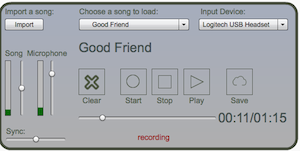 Karaoke in a web page.
---
The Visual Recorder
Do you need something more visual? Try the Visual Recorder, available now for only $49.99.
Think "Audacity in a web page."